With requests to help 600 or so students, organizers of the yearly Stuff A Bus campaign between United Way Alberta Northwest and Staples needed a Herculean effort, and they fell well short.
"It's very disheartening because we have 600 backpacks and we definitely don't have enough supplies to fill 600 backpacks. I'd be surprised if we had enough supplies to fill 400 backpacks," says Business Development Manager Jessica Schoepp.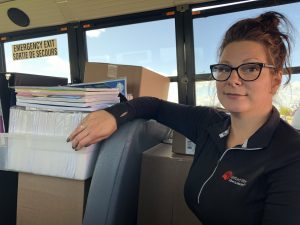 In 2018, the campaign had more than enough to help those in need, as the bus was filled to the brim and was helped along with several cash donations. This year, for a variety of reasons, including the abundance of online shopping options, Schoepp says it has been difficult to match those numbers.
However, she knows the disappointment she feels pales in comparison to that of which will be felt by students across the Peace Region who will have to go without.
"It means kids are going into a classroom knowing that they don't have the same thing as other kids, and the way they're going to feel sitting down in a brand new year. It means teachers struggling to take money out of their own pockets to try and put school supplies in kids hands. It's a far-reaching impact not having school supplies."
Schoepp says it's not too late to hand a hand, however, as supplies can be dropped at the Redwood hotel on August 27th and 28th, as volunteers will still be packing bags before shipping them off to students in need.