Safety behind the wheel
Driving in Grande Prairie, and throughout Alberta, can take you on a rocky road trip. There's many things to be aware of when you're travelling along the highway with passing semi's or taking a leisurely journey throughout downtown.
Once in your vehicle, you buckle your seatbelt, put your phone down, and proceed with caution. You do this for your safety, and the safety of others. However, one thing you may not consider as a safety issue, is that chip or crack in your windshield.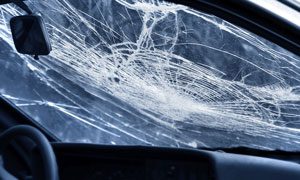 The Glass Shop in Grande Prairie wants to remind you of the importance fixing a chip before it splits and you unwillingly inherit the dangers of driving with a cracked windshield.
A cracked windshield has dangers such as obscured vision, lessens the structural integrity of your windshield, significantly reduces your protection, and decreases the total value of your vehicle.
Windshields are specially designed to ensure the safety of you and your passengers. Even if an extreme impact causes your windshield to chip or crack, you still have two layers of glass laminated together for your protection. If one layer of glass breaks, the laminate and the inside layer of glass holds your windshield together, keeping pieces of glass from injuring you and your occupants. But just because you have two layers doesn't mean that you should ignore a damaged windshield. Even a small crack signifies that the structural integrity of the glass has been compromised. Think of it like a helmet. A damaged windshield no longer provides the level of protection intended.
If the crack expands, or worse, reaches the edge of the windshield, the glass may have to be replaced as soon as possible, and guess what? Driving your vehicle in that condition is not recommended.  Again, this is an issue of your safety.
So the next time you "buckle up", check to see if there are any chips or cracks compromising your safety. If you see anything that could cause you trouble take it to The Glass Shop. They're locally owned and operated with over 25 years of experience in keeping motorists safe behind the glass.
When your windshield is cracked or chipped, come see Jason at The Glass Shop so you can stay safe, stay protected, and save money.
Remember, it's called a shield for a reason.
---
website: https://theglassshopgp.com/
phone: 780-830-5565
address: 101, 11401-98 Ave Grande Prairie AB T9V 5S5
---