UPDATE: The RCMP's Major Crime Unit has been called in to investigate the suspicious death of a man. Police say they responded to a report of an altercation in the area of Resources Road and 100 Avenue around 1:30 a.m. Sunday morning.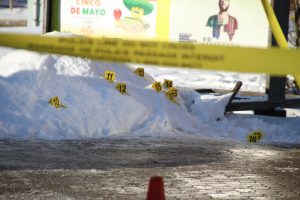 A man suffered serious injuries and was taken to the QEII Hospital where he was pronounced dead. RCMP says the investigation into the death is still in its early stages and more information will be released when available.
"Police are asking anyone who may have witnessed this altercation to contact Grande Prairie RCMP at 780-830-5700 or your local police," says Corporal Ronald Bumbry. "If you wish to remain anonymous, you can contact Crime Stoppers at 1-800-222-8477."
Grande Prairie RCMP remains outside of a downtown bar after reports of an incident early Sunday morning. Police tape has cordoned off an area outside of The Industry Live Entertainment Lounge and evidence cards can be seen on the ground and on snow banks.
Police have not commented on the nature of their investigation. We will update when we learn more.