A year's worth of historical events and celebrations has been planned for the Town of Peace River's centennial. 2019 marks 100 years since the village became a town and signed a charter.
Peace River has come a long way over the past century, says Deputy Mayor Elaine Manzer. Back in 1919, its industry was largely focused on transportation using the river itself.
"Peace River, when it started there were lots of riverboats on the river. They went up to the Fort Vermilion chutes up north and they went as far west as Hudson's Hope; there used to be a lot of passengers and traffic of goods along the river."
On top of that, Manzer says Peace River was a major centre for boat repairs as well as services for people who lived and passed through the area. Flour mills were another industry, and farming became more prevalent in the following decades.
Fast forward to 2019, and Peace River's economy is still dependent on farms, as well as oil and gas development and tourism. Manzer notes it's also a government centre and boasts a hospital, seniors homes, and four school systems.
"It's kind of a very small town, but yet we are a very big service centre for lots of things – anything that people want, basically."
The centennial festivities kick off this weekend with a free family event at Athabasca Hall. From 2 to 4:30 p.m. on January 12th, there will be historical displays, a photo booth, performances by the Peace Players and Peace River Community Choir, and skating in Riverfront Park.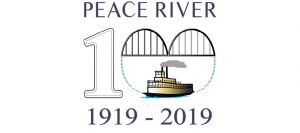 Later in the year, there will be an art show displaying all the centennial logo designs submitted, a concert in the park, and a tea at the Northern Alberta Railway station. The year will also be marked by the opening of the Peace Regional Recreation Centre Opening and the official unveiling of permanent flagpoles and the raising of Treaty 8 and Métis flags in Riverfront Park.
"It's just a positive, uplifting thing," says Manzer. "We've survived for a hundred years; yes, we've made changes over the course of time but it's just a time for community and families to get together."
The final event of the year will be on December 1st, which will be 100 years from the date of the town's incorporation. There are plans to bury a time capsule, plant trees, and re-sign a charter.