Grande Prairie City Council plans to revisit a local developer's plan to turn space zoned for commercial use into farmland at a later date.
On Monday, representatives from Trader Properties Inc. asked the city to change the zoning for lots north of 132 Avenue and west of 100 Avenue in order to qualify for a farmland assessment which could mean lower property taxes for the developer.
"The effect of converting any of the lands to farmland is that the property taxes on those lands would decrease as farmland is not valued the same way as commercial land," Mayor Bill Given explained.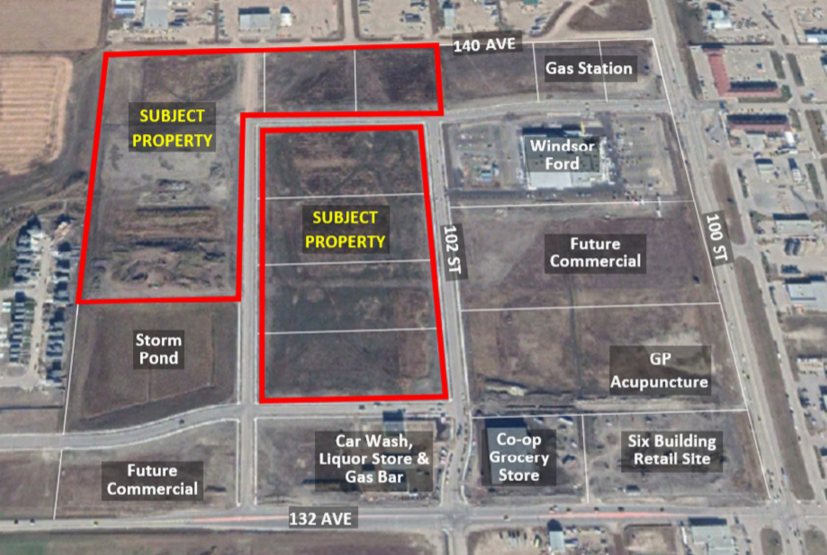 The original request would have seen seven parcels of land in Trader Ridge rezoned. While council members didn't want to change the four pieces in the middle, Given said they were willing to compromise by allowing the three pieces of land to the north and west of the property to be converted instead.
"The ones that are in the centre are surrounded by city standard roads all the way around and it's not really logical in any circumstance to say those are farmland anymore. The ones to the north and to the west are actually adjacent to farmland and can reasonably be imagined to be farmed."
Despite the compromise, Given added that allowing this zoning change could have tax implications for surrounding property owners.
"The approximate tax bill for the vacant lands that we were considering is approximately $330,000. Ultimately the decision that council appears to be moving forward with is about half of that amount. Any amount that we don't collect from that landowner would have to be picked up from other landowners across the city."
This isn't the first time Trader Properties Inc. has approached the city asking for tax relief. Back in May, they wanted to have their property taxes from 2018 and 2019 deferred, as well as any penalties cancelled. That was because the landowner said the undeveloped land was being hit with the same rate as that of a fully developed parcel of property, which had created an unfair level of tax. That request was denied.
To qualify for the farmland assessment, the developer would need to prove that farming was happening on the land. A final decision on the rezoning will be made at the next council meeting on September 9th.