A Grande Prairie man is honouring his wife's memory by doing something she loved. Myron Krahn and the Peace Country Offroad Racing Association will be hosting the 2nd annual Stacy Krahn Memorial Mud Bog this Father's Day weekend.
Stacy was one of the founders of PCORA, and because of that Myron says they decided to host their annual June event in her honour.
"Everybody that was out there that's been racing with us for any length of time knew who she was and if they didn't know her it wouldn't take them long before they did. So that's what we do, we come together and do that weekend in her name."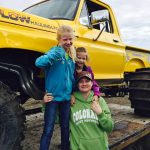 The mother of two was killed on November 22nd, 2017 after she was hit by a drunk driver on 116 Street. Last year was the first time the club held an event without Stacy in attendance.
While Myron says that inaugural event was tough, he's looking forward to seeing what this year has in store.
"I think it was a big deal for everybody especially myself and my kids, so coming to an event where she was not involved and had always been right from the start there's a big empty hole there. Coming back this year now that we've done it once it's maybe not quite so hard, we kind of know what were's doing… This one's a big deal for us."
Along with the mud bog, there will be a hill n' hole competition, children's activities, bouncy castles, and food trucks. Admission is $15 per adult, $10 for youth, and children 10 and under are free.
The event will take place at the Stacy Krahn Memorial Motorsports Park in Wembley which was dedicated to Stacy in 2018. Events will be held on June 15th and 16th, gates open at 11 a.m.