With phase four of downtown construction on hold, some Grande Prairie business owners are worried. Downtown Association Executive Director Wendy Bosch wrote a letter to council members on behalf of owners and says she's heard concerns that without the final phase, downtown doesn't look finished.
"It ties in with phase three so tightly with 100 Avenue. Visually it looks off right now because one side is complete one side isn't so there's just concern of how long will that stay, what does the future look like?"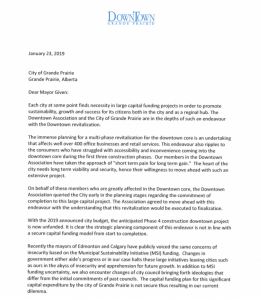 Phase one of the Downtown Rehabilitation Project started back in 2016. The third phase wrapped up in October 2018 and closed 100 Avenue for four months. During budget talks in November, phase four of the project was put on hold until further notice because of things like cost. That phase would have seen surface treatments like trees added to 100 Avenue from 100 Street to 98 Street.
While there's no timeline for when or if that phase will ever start, Bosch says businesses owners will continue to operate business as usual.
"We're going to do our part to showcase what we have in our city centre and try and market what we have as a special little mosaic of businesses that are unique to this city."
Bosch says she plans to continue to work with the city to make sure that the full project is finished in the future.