After 995 days in foster care, a local teen has been adopted. Emily Desfosses left her difficult family situation at the age of 14, and after couch surfing with friends she ended up at Sunrise House, the youth emergency shelter in Grande Prairie.
Now 17, Emily says being on her own was scary at times when she didn't know if she would have a safe place to sleep or food to eat.
"Kids like me, they don't always get a home and I wish more people my age that are in independent living had a family because they're pretty much on their own."
27-year-old Kaylee Desfosses first heard about Emily through her former job at Grande Prairie Crime Prevention. She and her then-fiancé David agreed to take her in, despite only being 10 years her senior.
Kaylee understands people may be confused about how their family works but says the key is the attitude.
"Emily is my favourite person in the whole world, tied obviously with my husband, but I'm still her parent, not her BFF. There are still rules; we still say, 'no'."
After a lengthy process, Emily was officially adopted by Kaylee and David in a ceremony on December 11, 2018. Her birth certificate has been reissued with their names on it and her new last name, and she was able to choose her middle names: Samantha and Lynn after her aunt and two grandmas.
The three moved to the Edmonton area roughly a year-and-a-half ago for a fresh start and to be closer to their large and supportive family. Emily says the final piece is legally becoming a part of it.
"It means that now I have stability and they pretty much can't get rid of me," she says laughing. "I feel more safe now."
"Most people when they think of adoption, they think of a baby but there are so many kids out there that are around my age, even pre-teens, that just need homes."
Emily also says finding her forever family has made her more outgoing, happy, and wise, and she has fun trying to explain her young parents to new friends. She's planning to attend hairdressing school after graduation this year and hopes to eventually have a career with the Edmonton Police Service.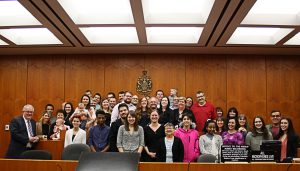 While their journey together has had ups and downs, Kaylee says it has been worth it to reach this point. She encourages others to consider their own family situation.
"If you would have told me five years ago that I would be 27-years-old and married with a teenager – a 17-year-old graduating high school this year – I would have laughed at you so hard, but life kind of gives us surprises once and a while and things turn out the way they're supposed to be, I think."
If adoption isn't an option, Kaylee suggests supporting youth emergency shelters and watching for children who may be struggling as a way to help young people in need of support.