Several community members helped carry the Canada Games torch through Grande Prairie Saturday. The Roly McLenahan Torch was in the city as one of the stops on the first ever MNP Canada Games Torch Relay.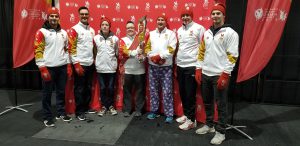 Grande Prairie Storm players and brothers Cruz Coté and Walker Coté, Co-Chair of the Grande Prairie Aboriginal Circle of Services Shannon Dunfield, City of Grande Prairie Mayor Bill Given, Chair of the Grande Prairie Sport Council Leigh Goldie, 13-year-old parkour enthusiast Riley Larue, and Ricky Leclerc helped bring the lit torch from Centre 2000 to Revolution Place. A public celebration followed.
Dunfield was asked to replace Horse Lake First Nation Chief Ramona Horseman at the last minute when she couldn't attend. She was joined on her leg by a group of Indigenous drummers and says it was important to have her culture included in the celebration.
"I think what was most powerful was when I met up with the drummers and they shared that they're the warriors that walk beside us women and it was such an honour for them to be part of this as well. [I'm] just really grateful to have that piece be a part."
Riley Larue was one of the first three people to be selected to be a torchbearer. He says he was honoured to be nominated and chosen.
"It's actually a very rare thing to happen to you. Not a lot of people get to do it," adding that taking part makes him feel more connected to the community since he's homeschooled.
Grande Prairie hosted the Canada Winter Games in 1995. The 2019 games will be held in Red Deer starting February 15th.
https://www.youtube.com/watch?v=I8sngEV7Lu0