The most recent lead on a local missing person case has ended in tragedy. A promising tip came in that Jamie Lee had been seen at a homeless shelter in Surrey, B.C., but when authorities tracked the man down, he had died of a drug overdose. It wasn't Lee.
Then 19-years-old, James Gregory Lee was last seen walking away from a campsite at Smoky Flats south of Grande Prairie around 5 a.m. on September 4, 2011. His mother Julie DeWinter says she still follows up on every tip she gets, which ends up being around one or two a month.
"Sometimes I get my hopes up. I'm a lot more cautious now with the tips… some seem a lot more possible than others.
The latest one was particularly hard on her. On top of several people believing the man was her son, she says the outcome reinforced the importance of checking on leads right away.
"When you find out that the young man had died, it really hits home because what if that had been Jamie and what if we had just missed him by a matter of hours and he died? That's why when we get a tip it's so important to check it out immediately."
Fortunately, DeWinter says she has a support team of family and Lee's close friends willing to drop everything to look for him. However, while it seems most people are looking for him on the streets, his mother doesn't believe that's where he would be after seven years missing.
"If he is still alive, he probably is no longer under the name of Jamie Lee even… He was extremely smart, so I can't see him all of a sudden becoming stupid if he's not here anymore."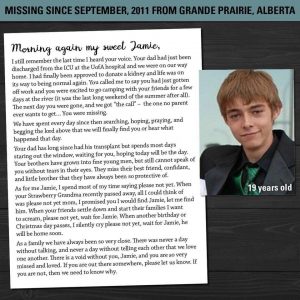 DeWinter believes the most likely theory for Lee's disappearance is a dissociative fugue, which is a form of amnesia in which the affected person can't remember their past or suddenly forms a new identity away from home. One of his ID cards was found on a road near the campground he went missing from, and so far there has been no record of his name at places like homeless shelters and soup kitchens.
While the search for her son continues, DeWinter says she struggles to move on from the day she last saw him. However, she says she fights every day to try to find him, and can't do that if she's feeling sorry for herself.
"I have a magnet on my fridge and it says, 'strong is just a word until it's the only word you have,' and it's true. It's not that anybody picks to be strong and do these things; you have no choice."
Moving forward, DeWinter is hoping to find an artist skilled in age enhancement to try to better reflect what Lee would look like in 2018. What wouldn't change is that he's 6'1″, has green-hazel eyes, and wears size 13 shoes.