Crews just managed to get a start on construction of Grande Prairie's new bike skills park before the snow fell. Work has already begun tearing down the existing bike park at South Bear Creek Park, and the expanded one could be open to riders before the end of the season.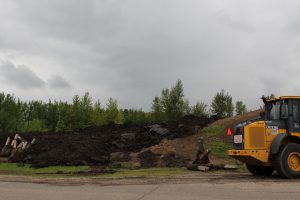 Construction is expected to take somewhere between three to four weeks. Parks Planner Lindsey Juniper says once done, it will have features for all levels of mountain bikers.
"It's going to be a really unique facility to the City of Grande Prairie; we don't have anything like this right now," he argues. "You can go from a beginner rider that's on a Strider bike on the junior pump track moving up to doing… X Games kind of jumps."
There will be mounds like the ones previously in the BMX park and a new skills area will be off to the side of it. It will have "skinnies", which are wooden platforms for riders to practice their riding and handling skills. A new trail system is also being built that will connect to the existing paved trails in the park using recycled gravel.
"Our trails that we have in South Bear Creek Park are used for mountain biking as well as for walking and hiking," Juniper explains, "but this will be specifically for the bike skills park."
Construction on the facility was originally slated to start in August, but Juniper says with changes to the design that was delayed. If winter holds off for a while after this storm, it's possible riders could test most of it out before it's too covered in snow.
The City has a $220,000 contract with the consultant, and Juniper says they're prepared to pay up to $260,000. Everything it wants to be included will likely exceed that amount, but there is the possibility of selling naming rights to help make up the difference.
With construction ongoing, the existing BMX Park is closed to the public. Traffic is asked to slow down and watch for workers near the dog park and golf course.