The city of Grande Prairie has opened all ten of their outdoor ice rinks to the public. The pond at Muskoseepi Park opened for skating just before the new year but the mild weather that hit the region experienced delayed the opening.
Out of the 10 rinks, five of them can be used for hockey: Alexander Forbes, Crystal Park, Hillside, Montrose and Swanavon. The other locations, which are open to the public but do not permit hockey on the ice surface, are Harry Balfour, I.V. Macklin, J.C. Mackie Park, Kateri Mission and Parkside School. All but I.V. Macklin and Parkside have lights so they can be used for night skating until 10 p.m.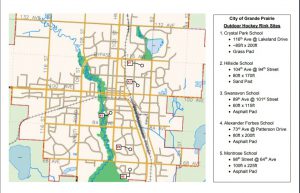 Indoor skating options are also available at Dave Barr Arena and the Coca-Cola Centre.