Flu shot clinics open Monday in the region and around the province. All Albertans six months and older are able to get the shot. AHS will offer immunization clinics at the Grande Prairie Friendship Centre, GPRC and the public health clinic. and the shots are also available at many pharmacies and doctors offices.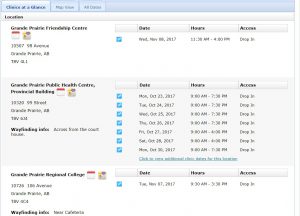 Last year more than 1600 people were hospitalized and 64 people died from influenza in Alberta. Because the shots targets different strains every flu season you can't rely on last year's immunization.
AHS says getting a flu shot can help protect those who may be at risk for greater complications, such as infants or the elderly. For more information call Healthlink at 811.