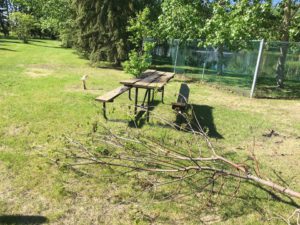 The Town of Sexsmith is eager to find whoever is responsible for recent vandalism at Heritage Park Campground. It is offering up to $400 for information that leads to an arrest and conviction.
The town says two picnic tables were destroyed and a tree was chopped down on June 10th. The padlock was also broken off of the washrooms and a mess of liquor bottles and cans was reportedly left inside.
Anyone with information is asked to contact County Enforcement Services at 780-532-9727, Grande Prairie RCMP at 780-830-5700 or contact Crime Stoppers at 1-800-222-TIPS. People are also asked to let [email protected] know about any tips sent.