The Rotary Club of Grande Prairie has donated nearly $2 million to Habitat for Humanity and the Grande Prairie Regional Hospital Foundation.
$950,000 will be going to Habitat for Humanity to help support its efforts to build more affordable housing units for families in need in the Grande Prairie region.
The hospital foundation received a gift of $850,000 to help with the purchase of specialized equipment and support for medical staff.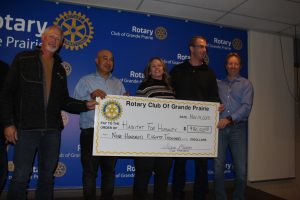 "This commitment is largely a result of our successful annual Dream Home Lottery," says Rotary Club of Grande Prairie President Steve Madden. "We are fortunate the public supports it so well and helps us provide these opportunities to build our community together"
Madden adds the two recipients were selected via the club's application process. However, when it came to fundraising, Rotary members came together in a big way.
"Service above self is what this club loves to chat about, and it's those hands-on, volunteering in our community and getting out there, helping each other and families.:
Habitat For Humanity will be working with the City of Grande Prairie to find options on plots of land for its next affordable housing build. It's expected the donation will help finance four houses.