The Peace Draft Horse Club is about to flip the switch on the 2019 Northern Spirit Light Show. The annual event at Evergreen Park, which is going into its 11th year organized by the club, officially opens to the public on November 14th.
Secretary Millie White says they are excited about the addition of some new displays this year.
"We've added 11 new displays so that's kind of fun when we're able to add a little bit to the show… We've added more angels to Heaven Sent; we've changed up the location of the displays so even if it's not a new display, it might be in a new spot."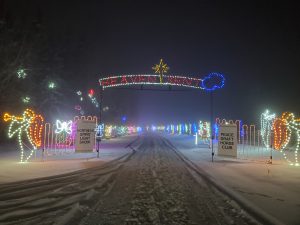 One of the parts of the light show that is returning this year is known as Heaven Sent. The pathway of angels at the entrance to the light show allows people to purchase an angel, a cloud or a star in memory of a loved one.
"This is a time for family and a time for community and most of the time it's a time to look back and remember people you've lost. It's a positive way to look back and enjoy their lives," says Wagonmaster Stevie Temple.
For people who are unable to purchase the whole item, they can just buy a light bulb in someone's memory to add to an existing display. Temple says even that small gesture can mean a lot to someone.
"It does change it when you get that light bulb and you screw it in and you're like, 'yeah, that's for somebody that I care about; that's my contribution to the light show.'"
The event costs $15 per vehicle or $5 per person for a ride on the wagon with profits being donated back to local charities. The show runs Thursday to Sunday from November 14th to December 1st and will be open every day from December 5th to 31st, excluding Christmas Day.