Hundreds took to the pathways of Muskoseepi Park on Sunday to help raise more than $54,000 for the 2019 CIBC Run for The Cure.
Holly Ljudean says she is running for a friend of hers who was diagnosed with breast cancer in July and continues to recover after major surgery very recently.
"She just had her mastectomy and reconstruction surgery just about a week and a half ago."
She adds the importance of raising awareness in the ongoing fight against cancer hit her in a big way after her friend's diagnosis.
"You kind of think it's not going to happen to anyone I know, or to myself, [but] when you get that phone call to go 'I've been diagnosed', it brings a tear to your eye and it's almost a reality check."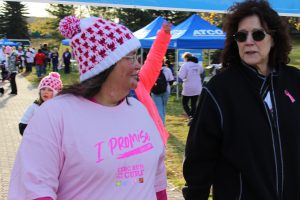 Breast Cancer survivor Wanda Robinson says as always, the carnation ceremony, and hearing the stories of fellow survivors remains one of the most emotionally draining, but also uplifting times of the year for her. She adds she is thrilled to see a bump in registration and participation.
"This is my 5th year, and it's even more people [than usual], every year it seems to be more and more."
Robinson says she began the run after being diagnosed with breast cancer in 2015 and despite more serious health issues stemming from it, she refuses to give up the fight.
"I was diagnosed in May 2015 with a lump in my breast. In June, I had my surgery, and there was a blip on the CT Scan, it turns out I have Stage 4 metastasized bone cancer. They gave me five years, and I'm in my fifth year."
Her message to anyone facing down the same fight she has battled the last half-decade is a simple one.
"Just keep going. Don't give up."