Local opinions remain divided on the use of supervised consumption sites. Roughly 50 residents turned up to take part in the supervised consumption site review panel's public meeting in Grande Prairie Tuesday, with members of the public speaking both for an against the harm reduction approach.
"I've learned about it a lot in school and did the research myself and I don't have that stereotype in my head that all drug users are bad," GPRC student Emma MacDougall said to MyGrandePrairieNow.com. "They need compassion, they need the care, they need the funding and they need the help."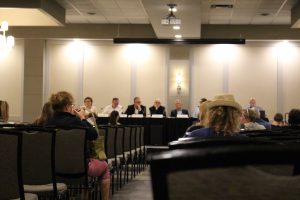 The panel, led by former Edmonton Police Chief Rob Knecht, was assembled by Associate Minister of Mental Health and Addictions Jason Luan in August. It has travelled around Alberta to hear about the impacts supervised consumption sites could have on communities when it comes to crime rates, needle debris, social issues, residential property values, businesses, and emergency medical service calls.
One attendee, who did not want to be identified, openly discussed the feelings of fear she and her family feel since the mobile site was opened earlier this year. She said she has had to chase people off her lawn on more than one occasion.
"I think it's ridiculous that we even have to have a conversation. You're supporting illegal activity; you're aiding and abetting criminal activity; it's disgusting."
However, some at the event blamed social media for polarizing opinions about addiction and addiction services.
"I think a lot of it is ignorance and not wanting to be open-minded to really exploring," says Alanna Vissers. "Whatever they see on the internet is the word of the gospel and they're not willing to have conversations with people who actively work in the field."
The findings of the review are expected to be completed and made public by the end of the year.