Workers with the mobile supervised consumption site and addictions outreach program are running around the clock to keep on top of the escalating drug use problem in Grande Prairie.
"We are here doing the best that we can to adhere to the safety of everybody," says outreach worker Marina Tran. "I have a son, myself, so I just think about him, the future generations.
"We do the best we can to clean up, direct people to education, but you can't force someone to educate themselves and that's why we have all of our numbers out there in the public so anyone can find them," she adds.
Tran takes part in daily checks around potential drug use hot spots in the city. She says the uptick in drug-related events may not be caused by the transitioning street-engaged population, but is merely a symptom of a larger problem.
"It really takes a community to become what it is, and right now our community isn't healthy. When we are on the clock and in our personal lives I think we feel it's our responsibility to be humanitarians and to help wherever we can, wherever we see people not being safe or engaging in at-risk behaviour."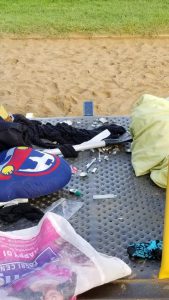 A social media post outlining the recent discovery of a plethora of drug paraphernalia at a park in Grande Prairie spread quickly, along with a mother's pleas for something to be done to address the issue of drug use in the community.
Following that, MyGrandePrairieNow.com took part in what is called a "needle sweep", where outreach workers comb the streets looking for needles and drug debris. In the two-kilometre radius spanning from the area referred to as tent city to Muskoseepi Park, one needle was found on an embankment off of 100 Street near 103 Avenue.
Some people in the outreach community fear a lack of understanding of what their job entails could amount to hostility towards their profession.
Meghan Lougheed, a non-medical employee working at the mobile safe consumption site, says she understands that seeing drug-related paraphernalia can be jarring and shouldn't be the norm. However, she acknowledges that for those in the grips of addiction, there's no simple fix.
"For a lot of people, outside of the community, they think the solution is just to get a job and get clean; that's really not how it works. A lot of these people might not even have identification, so they may not be able to get finances to get treatment. Those things aren't free, and they're not easily accessible."
Lougheed adds that, regardless of public perception, she feels strongly about what she and the others involved in the outreach program have done thus far in helping the at-risk community.
"I don't think that people really have all of the information, which, understandably, can be kind of intimidating, but we honestly have been doing I think a lot of good for the community."