Dozens of people hit the streets Wednesday evening to share their stories and show their support during the 3rd annual Overdose Awareness Day in Grande Prairie.
One of the keynote speakers, who wanted to only be identified as Lisa, lost her 20-year-old son Max to a Carfenantil overdose and says there is no stereotype when it comes to an accidental overdose death.
"I think that's the biggest reason I come to these events because I feel the need to destigmatize. The reality is this can happen to anyone, anyone's family and no one's immune," she said. "Addiction doesn't discriminate it can get everyone, and it got us."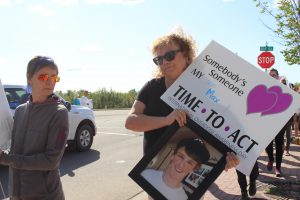 Winter Auger recently began volunteering at the Friendship Centre and says she will gather every year at this event, as overdoses have dramatically changed her life.
"My first love passed away in 2018, my auntie in 2016 and my uncle this year, and my dad struggles with addiction, too. It means a lot to me that everyone is here today," she said.
She adds the smallest of gestures can make all the difference in the world when it comes to someone struggling with addictions.
"Pretty much all of them feel alone and they have no help, and a lot of people look down on them. Working in outreach, I see a lot of clients who come in, and just a simple hello can change their day and let them know you're there."
The march started at the Northreach Society office on 102 Street, travelled through the downtown core before finishing up in Muskoseepi Park.