A Grimshaw man is close to becoming one of the largest single-rider fundraisers for Muscular Dystrophy Canada. Kelly Bunn left Grimshaw on May 13th and recently arrived in St. John's, Newfoundland after an 85-day bike ride which he called the Tour De Bunn.
Bunn set a $20,000 goal for the trip falling just $500 short. The 63-year-old said his motivation for taking the trip was personal.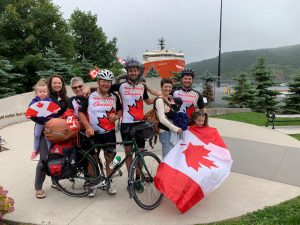 "I've got three beautiful grandchildren that when they grow up I want them to not put any glass ceilings on anything and realized that if they put their mind to something they can do what they want… I [also] have a brother and a nephew that have Muscular Dystrophy and I wanted to show support to them."
Bunn said there were nights sleeping in his tent in the rain when he thought about quitting but in the end he decided the positives outweighed the negatives.
"When you get out and you meet the people and you get an opportunity to see Canada from the seat of a bike it's an amazing country, a beautiful place, fantastic people so you tend to forget the bad parts a lot quicker when you've got so many great parts."
Bunn adds his fundraising page will be active through Muscular Dystrophy Canada for the next few weeks in hopes of raising the extra $500 or more.