A Grande Prairie woman has had enough after seeing her personal photos used in apparent catfishing attempts on dating sites for the fourth time in just under two years.
"A lot of these profiles are making me seem very vulgar," says Meghan Haughian. "Just asking to hook up or asking people to just send photos… or they're just wanting to talk sexually; it's crazy."
Catfishing is a term used to describe someone being lured into a relationship by a fake online persona. It can often lead to romance fraud, of which Albertans were scammed out of more than $1.7 million in 2018.
Haughian was only made aware of the most recent of the four photo uses after being messaged by one of her close friends. They asked if she had made a secondary profile on the dating app Plenty of Fish.
When the pair determined it was indeed not her, the friend messaged the alleged scam artist, but never got a response.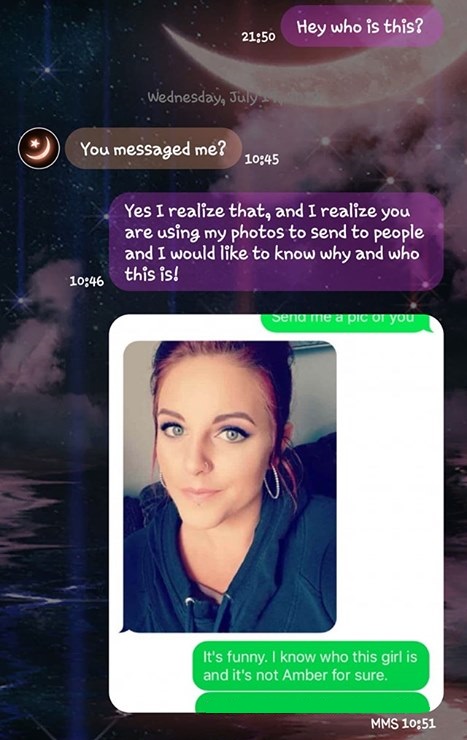 Constable Candace Hrdlicka with the Grande Prairie RCMP says people should go into the mindset of "user beware" when using social media or any kind of technology in which they can send photos of themselves or their family. She adds that users essentially lose control of them from the moment they hit send.
"We need to be cognizant of what images we are putting out there, what images we are providing to the public because they can be taken, reused and altered. It's quite difficult to track down who is responsible for reusing or altering those images."
Haughian says after the first identity theft in 2018, she took a little more interest in fraud prevention and took some steps to try to protect herself online.
"I know the basics. I try to keep my stuff as private as I can, only having my stuff set to only friends, or just for my eyes."
However, she adds the repeated events have made her clamp down and take a more aggressive approach to putting up barriers online.
"I don't put anything personal, whether it be about my family, what I'm going through in my life or anything like that. I really keep a lot private. It's really made me cautious to not really tell people, which is really sad."
If you think you've been the victim of fraud, you can report it through Canadian Anti Fraud Centre website, or by phone at 1-888-495-8501.