Residents in the neighbourhood of Wedgewood are again urging the County of Grande Prairie to help fix damaging sloping issues currently plaguing three homes.
"We bought our home in 2012 and it didn't look like any damage at that point. We've probably lost 20 feet going vertical and it sunk about 15 feet down," says homeowner Carmen Haakstad.
With fence posts still wrapped in concrete, 100-year-old trees bent over, and sheds on the properties having to be reinforced with steel beams, Haakstad says the damage is caused by Bear Creek shore erosion and has created what he calls an environmental disaster.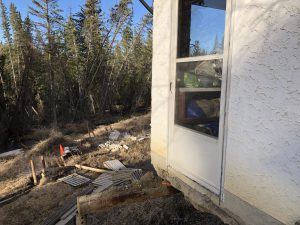 "One bend of the river needs to be shored up, as homeowners, we can't do that it's not on our land," he adds. "It's either the province or the county's land and they're the stewards of public lands so we are asking for them to fix it."
An engineering study conducted by SNC Lavalin in 2016 noted numerous infrastructure additions needed to correct the problem. The study found mitigating factors such as french drains and retaining walls must be installed. Haakstad says even with those factors laid out the latest requests to the County for help were denied.
"We've made two presentations over two years, and each year we have been turned down. Our last presentation was last June, and they let us know in March that the motion was defeated."
The dialogue between the two sides, however, goes back to 2012. The County of Grande Prairie previously offered to pay for half of the costs of a geotechnical engineering study, which was rejected by the homeowners.
It wasn't until 2016 after the homeowners tried to fix the problem themselves, that the County stepped back from the situation. Following an investigation, the municipality believed the changes further increased the price of stabilization work and didn't think it would be fair to taxpayers to foot the bill.
Reeve Leanne Beaupre says county council remains empathetic but suggests the homeowners could be responsible for finding a solution.
"I'm not saying this isn't a tragedy for a lot of people in the area but it's on private land, and there are landowners there dealing with issues."
Haakstead says he just wants a solution before someone is hurt due to inaction.