The Prairie Mall is hoping a new program will give Grande Prairie home and online businesses a new crowd to market to. Specialty Leasing Manager Natalie Linnell says the Pop-Up Project was created to attract business owners to the mall who had big ideas but a small budget.
"The at-home small businesses, people who sell online only, people who have turned down the idea of a brick and mortar store because it's too expensive. We're offering a flexible space with flexible timelines so that people can have the benefit of a physical location without having a long term commitment."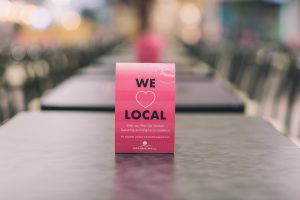 People who sign up for the project will be given space in the 400 square foot centre court area of the mall found near the food court. The mall will help with set up and professional signage. Linnell says its a win-win situation for both the mall and the tenants.
"The retailers can make a big splash with a limited time engagement. It's a win-win. We want to attract some new, non-traditional retailers to the mall and with this program it's a great opportunity to get them in the door and a great opportunity to show off their items."
The biggest pop-up tenant right now is the Grande Prairie Farmers Market whose vendors are set up there once a month from Thursday to Sunday until September. While the Market is the main tenant, Linnell says she's seen a little bit of everything since starting the program.
"I've had people who have been downtown, I have people out in Westgate, I've had the stay at home moms who [are] selling an online business out of her home. I've had so many inquiries from so many different types of businesses."
Anyone interested in learning more or signing up for a space can call Linnell at 780-532-1810 or email her at [email protected]