Both Grande Prairie-based mixed martial artists with a title fight at Friday night's Xcessive Force Fighting Championship 21 came up short in their bid to walk away with the gold.
William Carriere lost a unanimous decision to Steve MacDonald in a bout for the Light Heavyweight Championship after a hard fought 25-minute battle in the cage.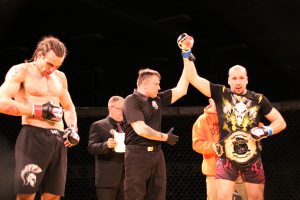 After a strong effort in the first round, Jordan Noseworthy was defeated by TKO 1:44 into the second round for the amateur Welterweight Championship by opponent Lorenzo Celis.
Full Results:
Steve MacDonald defeats William Carriere via unanimous decision
Blake Sigvaldason defeats Michael Imperato via TKO, doctor stoppage 3:23 into the second round
Craig Shintani defeats Chris Day via unanimous decision
Tom Theocharis defeats Jordan Roberts via KO/TKO 2:55 into the first round
Dave Pogson defeats Dayton Roberts via Submission 1:20 into the first round
Lorenzo Celis defeats Jordan Noseworthy via KO/TKO 1:41 into the second round
Grady Behrens defeats Brandon Burton via Submission 1:00 into the third round
Ramil Kamilov defeats Kyle Wilson via unanimous decision