Nauticol Energy's proposed methanol plant just south of Grande Prairie has been offered up to $80 million in future royalty credits. Premier Rachel Notley confirmed the amount Wednesday, as she visited the County of Grande Prairie to celebrate the company's $2 billion investment.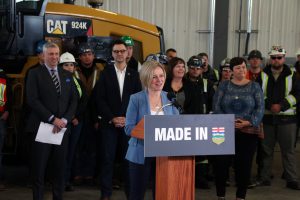 "[The credits] would become something that are worthwhile to them once the project is finished, and of course it's credits on royalties that as the Government of Alberta we wouldn't receive in the absence of this project going forward."
The facility is planned for part of International Paper's land that is currently being used for waste. Nauticol CEO Mark Tonner says apart from regulatory approval, there's not much that would stop the project from going ahead, but he notes the royalty credits help bolster their plans.
"There's still a lot of things that we have to accomplish; there's environmental permits that have to happen, but it's a big vote of confidence and it's a huge push of inertia as we move forward with the project."
Since plans first went public in October 2018, Tonner says the province has deemed its environmental application to be complete, meaning it's now in the consultation phase. Nautical has also reached deals with construction companies and vendors, and announced earlier this month that an $85 million expansion of TransCanada's NOVA Gas Transmission Ltd. System will connect its natural gas supply to the plant.
"All the key elements are now in place for it, so we continue to move forward pretty quick," adds Tonner.
Construction of the facility is expected to create 1,000 jobs, and there should be around 230 permanent ones for its lifetime, estimated at 50 years. Another couple of thousand indirect jobs are also expected to be created upstream and downstream. County of Grande Prairie Reeve Leanne Beaupre sees it as a way for the region to make its mark.
"People just don't understand what we have to offer and this project is going to set Grande Prairie and area on its heels and it's going to take off running."
The province's support for the project is part of the second round of the Petrochemicals Diversification Program launched in 2016. Notley argues the government continues to try to attract more investment like Nauticol's.
"We can't simply cross our fingers and hope for the price of oil to go back up. We have to do better at manufacturing and refining here and the more we can do that, the more resistant we are to up and downs in the international price of oil and the more jobs we provide right here in Alberta."
Construction on the first phase of the methanol plant is still hoped to start in 2020 and be operational in 2022. Nauticol also has an agreement with the Western Cree Tribal Council members for potential future employment and investment opportunities for Duncan's First Nation, Horse Lake First Nation, and Sturgeon Lake Cree Nation.