A handful of local groups will benefit from a donation recently made by International Paper. The American pulp and paper company took over the old Weyerhaeuser pulp mill south of Grande Prairie in 2016, and is handing out $80,000 in donations to the Bezanson Agriculture Society, Grande Prairie & District Catholic Schools, the Grande Prairie Friendship Centre, Grade Three Reading Academy Society, and the Mighty Peace Youth Society.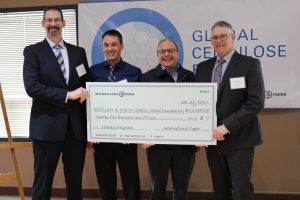 The Catholic school division is the recipient of the largest donation at $25,000. Director of Instruction Henri Chauvet says it will go to support Indigenous students through books for reading and learning math.
"We are continuing to expand our ability to teach Indigenous perspectives and further developing our programs for all students within our schools."
Also helping Indigenous youth in the community will be $10,000 for the friendship centre. Coordinator for the Aboriginal Head Start Program Joleen Bateman says the funds will largely be going to literacy initiatives, like bags of cultural books, puppets and games that can go home with children.
"Literacy is very important to us and we also understand the impact it makes on long-term educational success. To be able to promote parent involvement in their child's education and learning through literacy is something that'll be very unique to us."
The donation has also funded the inclusion of Moe the Mouse, an early speech and language curriculum that uses Aboriginal toys and stories to improve speech and language development in children ages three to five. It also paid for diapers for Babies' Best Start.
The other literacy program getting a $10,000 boost is the Grade Three Reading University. It's a three-week program run every summer for students going into grade four who don't have the literacy and reading skills they need.
"This is where we want to catch them; this is a net," says co-founder Rhonda Side. "We're going to make sure that they get the tools they need to move on so they don't slip through the cracks."
There's no fee for the families of the children selected to take part. The program is community-funded and run by volunteers with a five-to-one student-teacher ratio.
The Knelsen Centre run by the Bezanson Ag Society officially opened its doors last August. Executive Director Audrey Hewings says the International Paper donation of $20,000 will go towards the installation of basketball backstops in its gym.
"This equipment is a necessity for user groups, including the school, college, youth groups, seniors and families using the gym, whether for drop-in or scheduled activities. The opening of the Knelsen Centre has allowed the local community to be engaged in opportunities right here at home while drawing in users from other areas."
Mighty Peace Day happens every two years in Grande Prairie, giving local youth an opportunity to earn their way to a We Day-like experience through volunteering. The fourth edition will be held May 7th, but Stacy Rorem says the $15,000 donation will help to make it about more than one day.
"Through Mighty Peace Youth for Change we want to build a network of schools where dedicated teachers and students work to create positive change locally, nationally, and globally throughout the school year. The funds from IP will help us to connect and support students and teachers in those schools, providing tools and resources to help them promote student leadership and social action."
Cheques were officially handed over January 25th.
"At International Paper, we believe our company cannot succeed if our communities do not succeed," says Mill Manager Chuck Rutledge.