A new type of business is coming to Grande Prairie. Distilleries Latitude 55 and Broken Oak Distilling both plan to open their doors in 2019.
Latitude 55 located on 101 Street has officially been open for the past three weeks but only had vodka for sale starting on January 7th. Director Dennis Warren says from start to finish, opening the business took about nine months.
"From idea to business plan to business partners to all shareholder putting in their capital to become the business to purchasing the equipment to the building to where your standing today. It's been close to nine months. It's been super fast at times and its been like watching paint dry at times but what's exciting about it is seeing the process actually now come to fruition."
The city's permitting office has decided to include distilleries under the label of breweries/microbreweries in its land use bylaw, making them legal to operate in Grande Prairie. The distillery is directly run by Warren, Director Matt Scheck, and President Nick Kebalo.
Kebalo was the head distiller at Crown Royal for five years before joining forces with the other two men to open the business. He says they plan to take a hyper-local approach to distilling.
"We want to be a part of the community you know, embedded in the fabric of the community and to do that we want to work with other local businesses like the Grant Berg Gallery, for example, all local restaurants, local bars and local liquor stores."
While they currently have some Vodka ready, Kebalo says they also plan to make gin, whisky, moonshine and rum as time goes on.
Broken Oak Distilling on 100 Avenue is currently in the construction stage and Owners and Distillers Shawn Herbert and Patrick Chute are expecting their equipment to be shipped in the next week.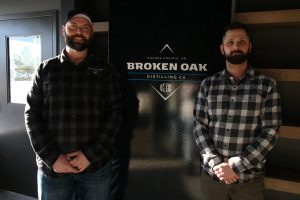 Herbert says he decided to open a distillery after his wife complained about the smell from his homemade wine making operation.
"She was like you guys have to get somewhere else to do this. But that's where it started. We were just making wine. During that last downturn, we just found ourselves with nothing to do and we picked up hobby brewing and just one thing lead to another and it was just kind of a natural progression into distilling."
To prepare to open the business, the pair went down and trained in B.C. but for the most part, they are self-taught. Chute says he's excited to work for himself and do everything from start to finish.
"The opportunity to work for ourselves and create something on our own. I do the branding, create the bottles, the logos and do all that from scratch. To actually be able to call something your own."
When Broken Oak officially opens, the pair plans to make a number of different vodkas, gins and rums. Herbert says he's not worried about having a second distillery open around the same time as theirs.
"There's enough room here for both of us. You know there's enough different types of alcohols that we make and it doesn't matter if you take the same recipe and run it on two different stills with two different people operating it's gonna come out different."
Herbert and Chute are hoping to open Broken Oak in the next two months.