"I hope they can hear us in Ottawa."
The words from Grande Prairie – Wapiti MLA Wayne Drysdale as he addressed a crowd estimated between 1,500 and 2,000 people in Muskoseepi Park Sunday afternoon. He was one of many speakers at a rally in support of the oil and gas industry organized by locals in less than two weeks.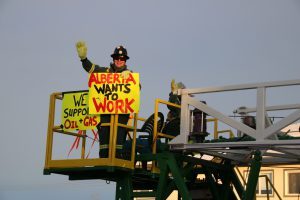 Drysdale was joined on stage at the amphitheatres by his Grande Prairie – Smoky counterpart Todd Loewen, Grande Prairie – Mackenzie MP Chris Warkentin, and representatives of local businesses and industry. Also making the trip to Grande Prairie for the event were Minister of Economic Development and Trade Deron Bilous and United Conservative Party leader Jason Kenney.
Bilous says he came to show the energy sector it has the support of the provincial government and Premier Rachel Notley, who was in the city two days earlier to announce two infrastructure projects. While his comments were largely met with applause, there were a few jeers of "too little, too late" from the crowd. He says Albertans may not know all the province is doing to fight for pipelines.
"We've been working on the Trans Mountain [pipeline expansion] for years; we've been working on rail for several months; the discussions of curtailment started many, many months ago, so I appreciate that the public may have only heard our government taking action recently, but there has been a lot of discussion going on behind the scenes."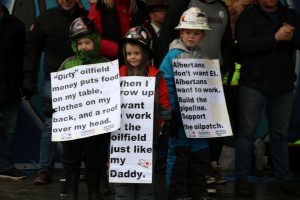 Any mention of Kenney garnered loud cheers from the crowd, and he could be seen taking several pictures with people in the park. Much of his message revolved around Bill C-69, which is currently before Senate.
The bill would overhaul how the federal government approves energy projects, replacing the National Energy Board with a new Impact Assessment Agency and creating as new timelines and processes. Kenney says he's concerned about it bringing uncertainty.
"It allows the new environmental regulator to stop an application at any time. There's no guaranteed timelines; it creates massive new red tape and barriers to overcome. Basically, the energy industry is saying nobody will come forward with a proposal for a pipeline in the future if this becomes law."
Alongside the rally in the park was a convoy of trucks that made its way through the city. It was expected roughly 200 vehicles would take part, but organizers say the final total was around 747 and lasted 1.5 hours. Traffic was disrupted for longer than that.
While the event was billed as pro-oil and gas and pro-industry, many of the speeches and signs made by the public took on a more negative tone. There were several signs with messages against Justin Trudeau and an effigy of the prime minister on the grill of one of the trucks in the convoy. People were also asked to sign petitions against Bill C-69 as they entered the area.
https://www.youtube.com/watch?v=YloR0F4GvlY