Grande Prairie is now home to the province's first UBrew facility. Located at Simply Vines Wine & Beer Making Supplies, people can now buy or bring their own beer, wine, or cider kits and ferment them in the store.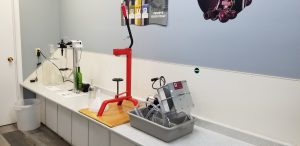 Previously, Albertans couldn't make booze for their own personal consumption in a licensed retail location. That changed with the recent updates to the Gaming and Liquor Act, something Simply Vines co-owner Mark Mercer says is wanted by locals.
"We heard demand for this, especially because of our closeness to B.C. so that they don't have to go back and forth, drive over there and start their wine, drive back and go bottle their wine."
Also known as Ferment on Premise, or UVin, brewing in a store is allowed in eight of 12 Canadian provinces and territories. Mercer says on top of the typical appeal of making beer and wine at home, brewing at their store comes with added space and the experience of staff.
"It's fun to do; you can do it with a group of friends. It's definitely cost-effective; you could end up with 23 litres of wine for $140, $135. We can teach them as they go."
Kits at Simply Vines range anywhere from $85 to $180, and the price to make it at the store is $25 for a batch of beer and $50 for wine. Customers come in to pitch their yeast, leave the fermenting, clearing, and filtering to the experts and then come back to bottle it themselves. Depending on what they're making, the process can take between two to eight weeks.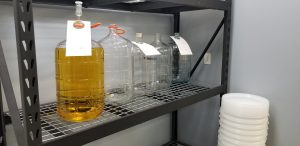 Simply Vines was part of the consultation process for Bill 6. Mercer says he's happy with what was delivered.
"They came back with one thing that really surprised me. Only GST [will be charged] on it so we're not doing a per batch tax. We do have a hefty licence fee that we do have to pay in that, but they're really actually trying to help us get going."
The shop moved in the spring in anticipation of expanding and can now be found on 101 Street behind Giant Tiger. Mercer says it already sells 200 kits a month, and the business could handle brewing up to 500 monthly.
Simply Vines found out its Class F licence was approved by Alberta Gaming Liquor and Cannabis on November 30th and it brewed its first batch that same day. Since then, The Fine Vine in Red Deer has also been given a UBrew licence.