UPDATE: Two Grande Prairie men are facing charges after Tuesday morning's confrontation with police.
21-year-old Raymond Andrew Rodtka is charged with several offences, including two counts each of attempted murder, discharging a firearm with intent, and pointing a firearm. His other charges are related to weapons, dangerous driving, flight from police, assault with a weapon, and possession of property obtained by crime.
The other man charged is 30-year-old Kevin Daniel Turner, who is charged with unauthorized possession of a firearm and possession of a firearm in a motor vehicle. Both remain in police custody and are set to appear in Grande Prairie court on December 7th.
Investigators now say there was an exchange of gunfire between police and two suspects on the north end of Grande Prairie Tuesday morning. The Alberta Serious Incident Response Team was called in after a man was shot by officers around 4 a.m. on December 4th.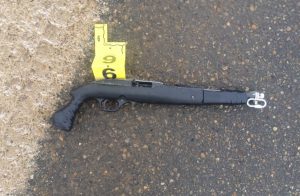 ASIRT says Grande Prairie RCMP was following a stolen GMC Sierra truck with two people inside in the area of 99 Street and 141 Avenue. It's reported the driver stopped the truck, put it in reverse, and sped into the front of a police cruiser.
"A confrontation occurred between the occupants of the vehicle and RCMP officers that, based on the evidence gathered to date, led to an exchange of gunfire between the two men and police."
A 21-year-old man who's believed to be the driver was taken to hospital with injuries to his left leg and shoulder. The 29-year-old man in the passenger seat wasn't hurt and was arrested without further incident. No one else was hurt.
ASIRT reports two sawed-off, long-barrelled guns were found at the scene. RCMP will still be investigating the suspects and the stolen truck, while ASIRT will be investigating the actions of mounties since someone was seriously injured.