Grande Prairie has a new provincial court judge. Andrea Chrenek has been appointed to the position recently created by the Alberta government.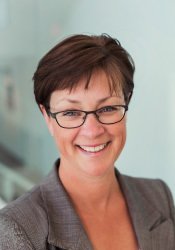 Chrenek has been a lawyer in Grande Prairie since 1996, mostly working in commercial litigation, employment and family law. She's also actively involved in the community as a member of the Swan City Rotary Club, director of the Grande Prairie Youth Emergency Shelter Society, and on the board of the Grande Prairie Women's Residence Association.
"An increase in resources for the Provincial Court of Alberta is welcome news," says Mayor Bill Given. "An additional Provincial Court judge in Grande Prairie supports our community's efforts to increase law enforcement and social resources, improving the efficiency and effectiveness of the entire justice system."
Chrenek's appointment is one of four new positions created in the spring 2018 budget meant to deal with backlogs and speed up the court system. Minister of Justice and Solicitor General Kathleen Ganley says Grande Prairie was chosen for one of the judges as it's one of the "pressure points" where the court is having a hard time keeping up with all of the charges coming through.
"What this means is that we'll have individuals in place to start helping to make sure not only that we're providing timely access to justice, but that we're starting to see some of that backlog clear away."
Across Alberta, 40 of 55 new court clerk positions have also been filled, along with 13 more bail clerks. However, only four of 10 Crown prosecutors included in the budget have been hired. Ganley notes hiring can be timely, and be hindered by turnover.
"We want to make sure that we have the right individuals in the correct places and sometimes, as is the case with many professionals, it can sometimes be a bit of a challenge to recruit individuals to rural areas."
The 10 Crown prosecutor positions are in addition to the 10 the province committed to hiring to solely focus on rural crime. Ganley stresses they are working to fill the remaining ones. Her office has confirmed they are actively recruiting for Grande Prairie as part of that.
A fifth provincial judge has also been appointed to fill a vacancy. Robert Marceau will work out of Peace River, where he was previously a criminal trial lawyer and partner at a law firm.