A Grande Prairie teen has designed Tim Hortons' newest donut. For one day only this Saturday, 14-year-old Savannah Lussier's creation will be sold at restaurants across the country, with the proceeds going towards Special Olympics Canada.
"Mine is my favourite Honey Cruller and chocolate and sprinkles," she says, adding that she used chocolate sauce and red and white sprinkles to top her donut. Those are the colours of Special Olympics.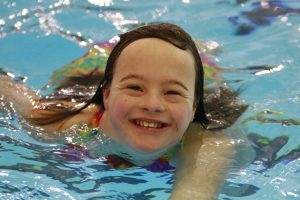 Lussier has Down Syndrome and competes provincially with Special Olympics Alberta. She plays many sports, but she made it to the Special Olympics Alberta Summer Games for swimming in 2017.
"It's fun! I like the Special Olympics because I make new friends," Savannah says.
The opportunity for an athlete to create their own donut is in support of this year's Global Day of Inclusion. On July 21st, Savannah's mother Jennifer Melom says they will be celebrating efforts to create a more inclusive world.
"All of our athletes are wanting to be included, just like everybody else. They have the same goals and ambitions as the next individual."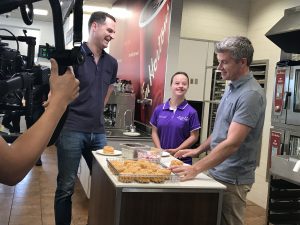 Special Olympics is also celebrating its 50th anniversary this year. The program gives children and adults with intellectual disabilities opportunities to train and take part in competitions around the world. Melom says it has helped Savannah feel more included.
"Every child, adult, with a disability or not, wants to be included and wants to do what they love and enjoy. Special Olympics gives that opportunity for our intellectual disability individuals to be a part of a team and a community."
Melom says her daughter's donut design was picked out of 84 entries, of which the top three were all from Alberta. As part of her experience, she travelled to Toronto to meet and film a video with TSN's Jay Onrait and Dan O'Toole.
Savannah's donut will only be available July 21st for $1.59 plus tax.