The Fraser Institute has ranked Peace Wapiti Academy as the top high school in Grande Prairie. The controversial annual report card gave the Peace Wapiti School Division school a rating of 5.7, putting it 156th out of 262 schools ranked from across Alberta.
The annual report is based on Grade 12 province-wide testing, grade-to-grade transition and graduation rates. Local school districts have historically not placed much weight on the results, as they are based on only a small amount of data.
St. Joseph Catholic School and Charles Spencer tied for 215th place with a rating of 4.7. The Grande Prairie Composite High School follows with a rating of 4.4 for a ranking of 229th, while alternate Catholic school St. John Bosco is one of the lowest ranked in the province at 258th with a 0.4 rating.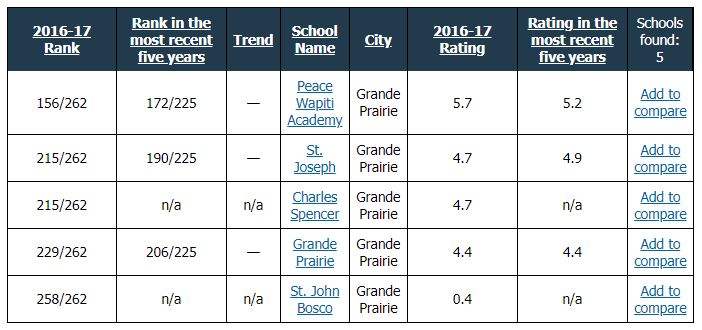 Sexsmith Secondary School is the highest ranked high school in the Grande Prairie area, coming in 139th with a 6.0 rating, while Spirit River Regional Academy is 178th with a 5.4 rating. The Fraser Institute says Beaverlodge Regional High School is on a downward trend, with its rating dropping from 4.5 over the past five years to 3.5 in 2016/2017. E.W. Pratt in High Prairie is on the same trend, from 2.2 to 0.8.
Elsewhere in the Peace country, Grimshaw Public School is the ninth fastest improving school in Alberta from 2013 to 2017, now sitting with a rating of 6.3. Glenmary School is the highest ranked in the entire region, with a rating of 6.4 putting it at 111th overall.
The Fraser Institute says this year, 41 Alberta schools "suffered statistically significant declines in overall academic performance compared to just 24 schools that improved." Individual school results can be searched online.