Five years after battling cancer one local man is hoping to encourage more conversations around men's health.
Stacey Coomber was diagnosed with prostate cancer after several doctors visits in 2012. He was told that he had a few different options for treating the illness, he opted for a radical prostatectomy.
"Being five or six years un-diagnosed I was really sick and this was the newest, latest, greatest and I thought possibly [it] could have been the best way to save my life. So that's what I chose, I went down to Edmonton to have the surgery and an actual robot did the surgery on me."
Coomber has been cancer free for the last five years and he says they have been some of his best. He's fallen in love and gotten married to Kathy who was a big part of planning last years inaugural Cancer Ride for the Boys. She says her idea was to bring a stationary bike in to her office and things grew once her boss Kevin Szakacs and his network got involved.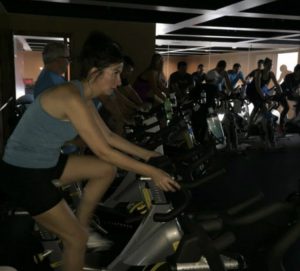 Last year's event came together in about 30 days and raised $6,415. This year the fundraising goal is $10,000. Along with the fundraising Stacey Coomber really hopes to encourage men to take care of their health.
"Guys need to start talking about this stuff. We tend to keep it inside and not worry our family and friends. But, you know, it is a death if you get yourself checked out."
"It's just been a life changing thing for me." Coomber continued, "it's horrible to say that you need to get sick and get cancer to really realize how important and precious every day is here. But, I think the more people like myself get out in the community and start discussing men's issues and men's health the better off all men will be. We just need to get out there and do it."
The 2nd annual Cancer Ride for the Boys will be held at 214 Studio Fit and Wellness on Saturday November 25. There is still space to sign up as a team or as an individual. There will also be a silent auction and drop-in fitness classes by donation that day.
All of the funds raised by the event will stay in the region. They will be donated to the Grande Prairie Cancer Centre at the Queen Elizabeth II Hospital. Pledge forms are available at Hi Tech Business Systems or from Rob Maclean at 214 Studio Fit and Wellness.