November 1 marked the start of Family Violence Awareness Month. A joint proclamation was made by Mayor Bill Given and Reeve Leanne Beaupre. Chair of the Prevention of Family Violence Network Natasha Streeter says this year's key message is "reach out, speak out".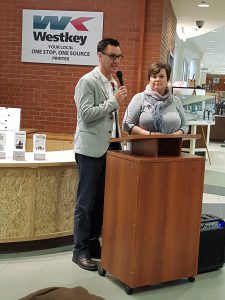 "It's about coming together as communities, individuals, in families; men, women and children, to support the idea that if we all work collaboratively together that we can create safer communities for everyone to live in."
Alberta was ranked third in 2015 for its rate of intimate partner violence. The study by the Canadian Centre for Justice Statistics is the most recent of it's kind. Odyssey House Executive Director Ebony Remple says it's up to everyone to make a difference.
"The way that we view family violence in our community isn't necesaily around that men are the abusive people towards women. We know that it's a family issue, that it's a cultural issue and that we all need to work together towards [fixing] it. So men, women, children. Fully inclusive."
The city has a few events planned to help spread the "reach out, speak out" message of this years campaign. Look for members of the Prevention of Family Violence Network at the Storm game Friday night where they will be distributing purple ribbons.
November 15 will be #GoPurple day, everyone is encouraged to wear purple and post "selfies" on social media to help continue to spread the word. Then November 30 a Take Back the Night Walk will be held in Muskoseepi Park at 5:00 p.m.