The Grande Prairie Salvation Army kicked off the 2023 Christmas season with this year's Kettle Campaign.
In addition to the opening of the campaign's 2023 season, the event was significant for one long-time volunteer who is celebrating her 60th year as a volunteer with the Salvation Army.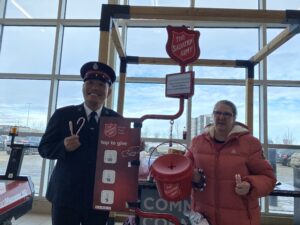 Jane Reif has been a soldier with the Salvation Army since she was six months old, and she says the Kettle Campaign has become a Christmas tradition for her and her family.
"I raised my children to do kettles, my boys are both adults and I know in Ontario my youngest son still does kettles every year, It's not Christmas without doing them."
"I was a single mom for many years so sometimes the hamper was all we got for Christmas so I vowed that when I was able to give back financially I would, but even when we couldn't give financially we donated our time."
According to Executive Director of the Salvation Army in Grande Prairie Captain Peter Kim, the need in Grande Prairie has grown "exponentially" as 9,199 unique Grande Prairie residents have been tracked using the food bank before the Christmas season, and he says they are projecting that number to grow to more than 12,000 by the end of 2023. Kim adds that number equates to over 5600 individual households projected to access food hampers in the 2023 season.
"There's actually a waiting period now, a three-weeks long waiting period for people to just receive their food because there's just a huge volume of new households and individuals coming to access the foodbank."
Additionally, the Salvation Army has raised their Kettle Campaign goal to $650,000 for 2023, which is $50,000 more than last year. Kim says the new goal reflects the increased demand that the Salvation Army has seen for food hampers.
"Normally we do, in the past, about 2,000-5,000 hampers to over 8,000 this year," he says.
This year, there are 11 kettle locations sprawled across the city, with cash, tap, and mail-in/online options available for anyone interested in donating.