Métis Local 1990 has marked Louis Riel Day with a flag-raising ceremony in front of City Hall. The November 15th celebration featured speeches from former Métis Local 1990 President Angie Crerar, current President Shannon Dunfield, and city councillor and Métis representative Grant Berg.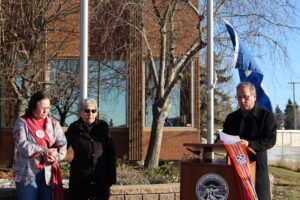 Crerar is a residential school survivor and says the day is significant as it celebrates Métis leader Louis Riel, who Crerar calls a personal "hero."
"I [did] a prayer representing and honouring our leader Louis Riel," she says. "He's our role model, and been mine since I was a child; without him I wouldn't even have a name today."
Louis Riel Day was first marked in Grande Prairie in 2018. Crerar says the flag raising signifies the unity shared between Métis people and the municipal government.
"It's so important. When I came to see [former Grande Prairie Mayor Bill Given], and asked him if we could have our flag up here, we believed in him."
The day is officially observed every year on November 16th.