RCMP is investigating a break and enter, and attempted theft of an ATM from a McLennan business in the 1st Avenue NW area.
According to McLennan RCMP on May 24 around 5:15 a.m., police responded to the business's security alarm notification and found a broken window to the when they arrived on the scene. According to officials, police found evidence at least two male suspects who attempted to steal the ATM.
The first suspect is described as wearing orange coveralls with yellow shoulder straps, a purple or blue ball cap with the Toronto Raptors logo on the front and a dark long-sleeve shirt. He also had on gloves, with short almost shaven hair, a light complexion and a patterned bandana covering his face. The suspect was carrying a sledgehammer and had on black and white sneakers or work boots.
The second suspect is said to have been wearing a camo ball cap, a dark mask covering his face, he has short dark hair, and a light to medium complexion. The second man also had on a blue jacket, dark pants, gloves, and winter boots.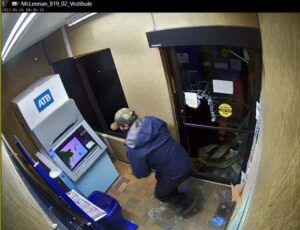 RCMP continue this investigation and is asking for publics help, including asking residents or businesses in the area to review any security footage they may have between 5:00 a.m. and 6:00 a.m. and share the footage with RCMP if you believe it will help the investigation.
Anyone with information in relation to this incident is asked to contact RCMP or Crime Stoppers.