The Grande Prairie Regional Emergency Partnership says 207 evacuated County of Grande Prairie households have been able to go home. The evacuation order for the Dunes West Wildfire was downgraded to an alert for some residents Tuesday.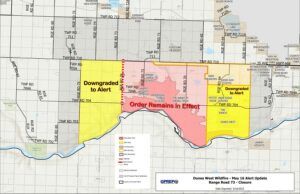 As of 2:22 p.m. Tuesday, residents from Township Road 710 south to the Wapiti River between Range Road 75 and 73 and Range Road 65 and 63 were told they could return to their properties. However, people in an evacuation alert area still need to stay prepared to leave with 30 minutes notice.
Some areas remain under an evacuation order, due to ongoing wildfire activity and crews working in the area, leaving 139 households kept from their homes.
Most residents from Township Road 710 south to Wapiti River between Range Road 65 and Range Road 73 remain on an evacuation order and cannot return home until conditions improve and the order is lifted. This includes the subdivisions of The Banks at Spring Creek, Riverview Pines Estates, Spring Creek Estates, and Wapiti Heights Estates.
"Firefighters are actioning hot spots throughout the interior of the fire, including the Spring Creek area, making it currently unsafe for re-entry," an update from GPREP Tuesday night reads.
People in the area north of Township Road 712, west of Range Road 73, and east of Range Road 63 are no longer under evacuation alert.