A week after the Dunes West Wildfire sparked south of Grande Prairie, wildfire crews are ramping up preventative measures as dry, hot conditions are forecasted for the tail end of the weekend and start of next week. Incident Commander Darryl Martin says mother nature has been on their side in recent days, but knows they will have tough days ahead as the weather factors are starting to turn. However, Martin adds the work done since May 5th has been nothing short of extraordinary.
"The fire since then has grown to around 1,500 hectares, with a loss of only four structures, amazing work by our local fire assets and with the amount of resources we had to contain it to this amount of loss and size," he says.
"We are still dealing with an out-of-control fire within that perimeter, and we are slowly trying to close that perimeter and provide an area of control. We aren't there yet, but we are working towards it."
Martin says due to the number of fires in the province, this is predominantly a local response, with heavy resource use of the county fire department, assistance from the City of Grande Prairie, and other municipalities throughout the region and beyond.
"We've got resources coming from places like Calgary, Chestermere and others, people who can help are helping. Just recently, we've had some assistance from the federal government," he adds.
Martin says the weekend forecast is less than ideal for their firefighting efforts, but they will do everything they can to keep the blaze contained within the perimeter, which includes fire guards and sprinkler systems set up around residential properties.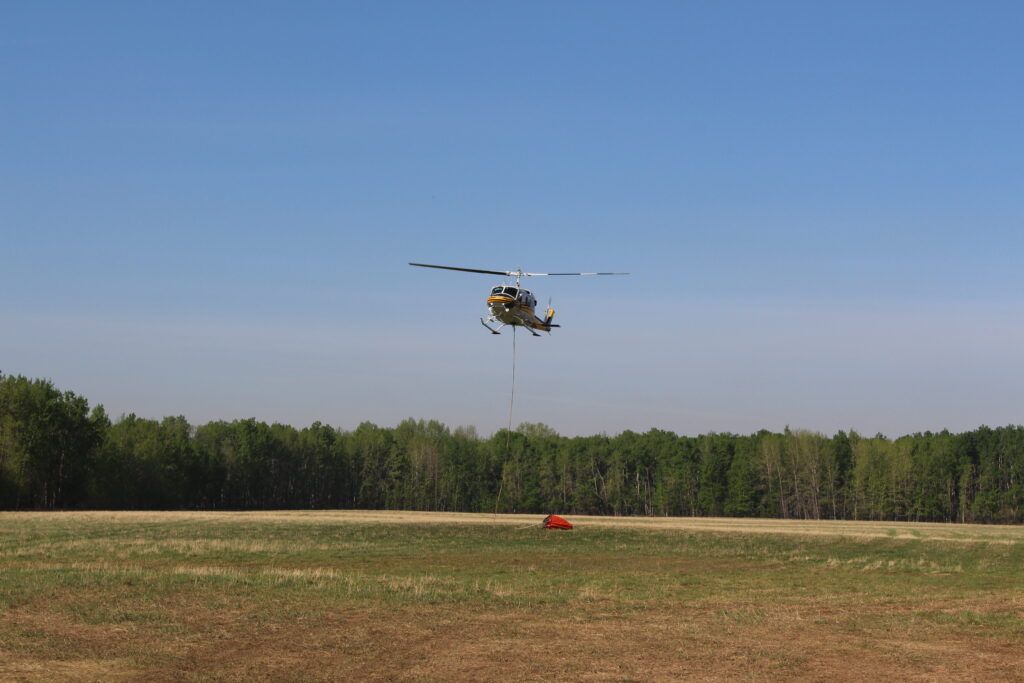 "As it heats up during the day, these finer fuels get warm as well and it makes it easier for them to ignite when they're exposed to a heat source. With the winds, that fans the flames, so those two together, which we are expecting is not a good recipe for wildland, so we are hoping to stay on top of it as best as we can and we hope mother nature will cooperate," he says.
"We are using helicopter bucketing an awful lot, we are using drones at night to do hotspots so we are able to target crews into areas. We have large equipment here getting into peat bogs so we can mix those up and get water [from there]. [But], we also have pockets of fuel-rich areas, so we are trying to keep the fire from flaring up and embers getting into those areas."