The Grande Prairie RCMP released photos of a man suspected of pulling the fire alarm, without reasonable cause, at the Grande Prairie Public Library at the end of January.
According to RCMP during what they call a community event on January 24th, the man entered the library via the south entrance and pulled the fire alarm. Police say he then left the building immediately after, going out the same way he came in. Officials say the incident happened around 6:35 p.m.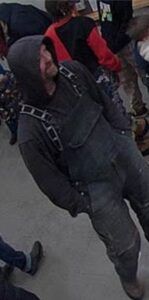 RCMP is asking anyone who can identify the man to call the Grande Prairie detachment at 780-830-5700, or Crime Stoppers at 1-800-222-8477 (TIPS).