Métis Local 1990 has a new president as elder Angie Crerar has retired from her presidency at 87 years old. A retirement celebration was held in Crerar's honour on November 18th, complete with dinner and entertainment to mark her impact on the community.
Crerar has lived in Grande Prairie since 1966. She was introduced to the Grande Prairie Friendship Centre in 1979 and has been a member ever since. She is also a residential school survivor, having attended St. Joseph's Indian Residential School in Fort Resolution, NWT, and led Canada's Indigenous delegation to Rome to meet with Pope Francis.
Shannon Dunfield will be taking over her position as president of Métis Local 1990. Dunfield says she can't begin to explain the love and gratitude she has for Crerar's support and leadership. She says that, even though her mentor will be retired, she will continue to make an impact on the community.
"She's going to be there; she is going to help and support," Dunfield says. "Everything I do, I run through her. We talk just about every day, and she is just an amazing woman to have in my life and I'm so grateful to be a part of hers."
In 2003, Crerar received a Lifetime Achievement Award from the Institute for the Advancement of Aboriginal Women and received the Queen's Diamond Jubilee Medal in 2012, followed by the Government of Alberta's Minister's Seniors Service Award in 2015. In 2005, she was awarded the Governor General's Caring Canadian Award for her efforts to help unhoused people over the age of 55, having founded the local Elders Caring Shelter.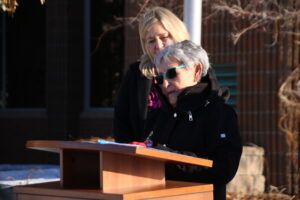 Launched in 2003, it was the first of its kind in the country, providing beds for Indigenous people without homes. Dunfield says one of her focuses as president will be to move forward with a second elders shelter, a project that has been in the works for several years with Crerar at the helm.
"That was a dream of Angie's, and it is a legacy that we want to ensure that she has. So, it is something we are working on with the Métis Nation of Alberta."
Dunfield joined as a support on the project in 2019. While things have been put off over the past couple of years, she is hopeful to have information on things like funding and to break ground and build.
With files from Erica Fisher.