By the end of the weekend, it's expected the CIBC Run for the Cure in Grande Prairie will have raised $700,000 in 10 years. As of Saturday night, 144 participants had raised $50,140 for the Canadian Cancer Society, bringing the total-to-date since the first run in 2013 to $699,298.
Volunteer run coordinator Janice Lovejoy says they saw a surge of registrations last-minute that she's hoping will put them over the top.
"We had some join up today, so it'll be more than that. I was hoping to be able to say we had raised $700,000 in 10 years and I think by the end of the day we probably will have."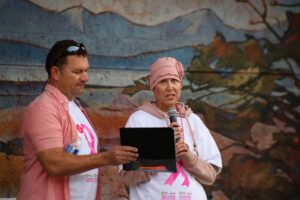 Participants and supporters gathered at the Muskoseepi Park amphitheatre Sunday morning, where they heard from this year's Participant of Hope Nicole Lavallee. She shared her family's multi-generational history with cancer and her own journey since being diagnosed with breast cancer in January.
Lovejoy got involved with the Run for the Cure in 2018 having three loved ones affected by breast cancer. She says she wants to make sure people battling the disease and survivors feel the support.
"It's so important for them to have the information they need or know they can go and talk to someone just to help them. Lots of times, mentally, the support is just as much as the physical aspect of it. It's really important that people understand this money goes to helping that kind of stuff and the research that will make it better."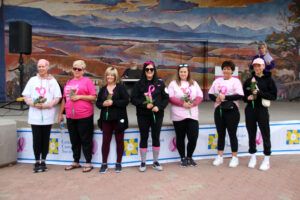 This year's event came the morning after a sold-out fundraiser for The MOZART Mission, a group of women who have gone through, or are going through, breast cancer. With donations raised at their mixer as well as from the City of Grande Prairie, County of Grande Prairie, ARC Resources, and the Grande Prairie Regional Hospital Foundation, enough has been raised to purchase a MOZART 3D Surgical System for the hospital in Grande Prairie.
The system allows the surgeon to visualize the tumour right in the operating room, which no other available technology allows. Lovejoy says it will give some peace of mind for those getting tested.
"Not having to wait two weeks to know if that cancer is out of your body or if it's still doing its dastardly work on you. Just that they can say, 'okay, it's wiped out. This is what we're going to do now,' instead of saying, 'we have to wait two weeks until we see.' I can't imagine what that does to your brain."
This is the first in-person run that has been held in Grande Prairie since 2019 due to the COVID-19 pandemic. It's hoped next year's event, slated for October 1, 2023, will bring an even bigger crowd.