It's Josh with the 2day FM Summer Cruiser, powered by Standard Auto Glass and supported by Frontier Eatery & Saloon, Eastlink Mobile, Ken Sargent GMC Buick, and the Canadian Motorcycle Tourism Association.
Last week I went to a bunch of amazing places and events. On June 23rd, Embrace It Fitness hosted Pound for Pride in Muskoseepi Park. Before that, I popped by the Market in Hillside at the Veterans Memorial Gardens. It is a great place to meet farmers, entrepreneurs, and artisans. It happens every Thursday from 11 a.m. to 8 p.m.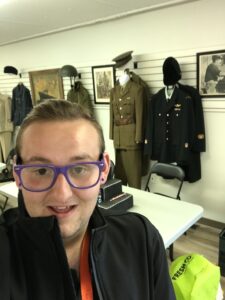 Friday, June 24 I went to Kleskun Hills. It was a beautiful day to be outside and this was my first time visiting the area. Walking around and looking at all the history was breathtaking. Later on, I went to the perogy supper fundraiser at the Ukrainian Church. The moment I walked in the doors I felt welcome. There was a warm sense of community and love throughout the place. I sat down with a volunteer and she told me they were going to do one every month, so, if you have a craving for perogies visit Dormition of the Mother of God Church – Eastern Cath – Grande Prairie, AB  to find out when the next supper is going to be.
Saturday, June 25 the cruiser and I went on down to the adult Zulu Challenge in South Bear Creek Park. When I got there almost all the participants were harnessed together. It was fun to watch them try to climb, jump, crawl, and run through this course. Next time they do the challenge I want to try it out. It sure does take a lot of muscle, strength, and willpower. Not only are you running around carrying a tire but also an egg. If you want more info on the crazy fun challenge head to www.facebook.com/zuluchallenge.
After watching people crack their eggs, I went to the PARDS Community Carnival & Cook Off. As soon as I got there I found myself in the goat and sheep pen feeding them lettuce and carrots. When I ran out of food, I made my way to the carnival. Inside there was a bunch of homemade games; some you had to throw things, others you had to pull. It was a fun time for all the kids with so many smiles and laughter. Outside the carnival was a giant crane as a fundraiser to go 200 feet up in the air. All of a sudden I found myself already 100 feet in the air. The view was AMAZING! It lasted for about five minutes. I said goodbye to all the goat friends I made and I went to check out Saturdays in the Street right beside the Grande Prairie Farmers' Market. There were lots of venders and good vegan food.
Sunday, June 26, it was time for the kids Zulu Challenge. I headed back to South Bear Creek Park to watch the kids roll in to do this challenge. They were not harnessed together like the adults. I missed them going through the course but I could tell they were excited. Then I cruised on down to Grande Prairie Composite High School where they were doing a farewell to the high school. I didn't go to school here in Grande Prairie but I was sad to see a school full of memories go. They had  BBQ and a silent auction in the gym. As they say goodbye to the old school they say hello to the new one being built right next to it.
My last event of the day was in Muskoseepi Park. It was for Indigenous culture, called "Honouring All My Relations". It was a event full of music, dancing, and cultural teachings. It was so nice to see all the community support. I got to sit down with Elder Theresa and we had a good chat about the event, and how happy she was about the amount of people in the community there were there. That was an amazing event to end my week.