Grande Prairie resident Aaron McLean couldn't believe it when his female golden retriever, Emkay went missing. He described the feeling of being without Emkay for seven days as "horrendous." McLean's friend, Jade Imlay provided the details on the long search for Emkay.
"On December 29th, she got out of their house at Happy Trails RV. We don't know what happened because the door was closed, but somehow she got out. My fiancé Casey spotted her running around in the fields but she kept running away from everybody," she says.
Jade, Casey, Aaron, Charmaine, and others followed any leads they found on Emkay, but the extreme weather and snow caused problems finding Emkay.
"Over the next couple of days, she was spotted a few times, around the airport. We went out searching for her like we did every day, but it was so hard to tell where she had been and the snow was so deep," she explains. "We felt like we were making no progress on foot."
Aaron spent his nights after work driving around and looking for her any chance he got, walking through the snow, and putting up with the cold just trying to get her back, but he had no luck up to that point.
"It wasn't until Tuesday, January 4th that she was spotted at the lights on Highway 43, by the bypass. Several people stopped, trying to rescue her, but she was just too scared and kept running away," she says.
The following day, she was spotted in the fields close to Range Road 70. In the first house off Range Road 70, a local offered them access to his property and the use of a snowmobile to try and find Emkay.
"My fiancé and Charmaine went up into the trees and finally found her, laying in the trees up there. She was a bit wary at first, but then she barked four or five times and came running over to them and jumped up into their arms," she says.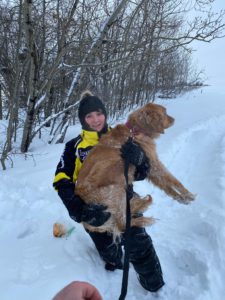 Emkay had gone missing for seven days at that point. It also happened to be Aaron's 28th birthday. She was taken to the vet and she had frostbite all over her body. She's on some pain medication now, and antibiotics, and she gets hydrotherapy baths three times a day.
"She's just so happy to be home," Imlay says.