Hundreds of nurses, health care workers, teachers and social workers in Grande Prairie are speaking out against government cuts to front line workers. Voices were loud outside of City Hall on Wednesday as they chanted and marched in solidarity with many others across the country.
"We want to let the Government of Alberta know that we're not going to take this lying down," says Alberta Union of Provincial Employees Vice President Kevin Barry. "We're going to be in the communities, we're going to be on the streets and we're going to be in front of them at every chance we get."
"They're attacking all workers and all labour in this province and they've awoken a giant and we're not going to lie down," he adds.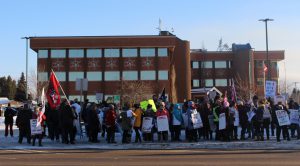 The United Conservative Party revealed on November 29th its plan to get rid of front line worker positions over the next three years in order to cut costs. Those cuts could affect 750 United Nurses Association members as well as 5,900 health care and government workers that belong to the Alberta Union of Provincial Employees.
Barry says these cuts will be detrimental to health care, especially in a place like Grande Prairie.
"We think that small communities are going to be the ones that are adversely affected because they're not going to get the services that they already have limited ability to get anyway, so they're probably going to have to travel great distances to get the services they need."
There have been 30 to 40 similar rallies across the province since the summer.
https://www.youtube.com/watch?v=-h1g80jBD1Q&feature=youtu.be