People across the Peace Region have gathered to remember the men and woman who fought and continue to fight for our country. Ceremonies were held in and around Grande Prairie on Monday, bringing together hundreds of people wishing to pay their respects.
People in Grande Prairie had two ceremonies to chose from with one held indoors at Revolution Place and one held outside at the Jubilee Park Cenotaph. The outdoor event saw people brave -14 temperatures including Lorne Scobie, who was there to honour his father.
"My dad flew in and out of the Aleutian Islands, rebuilding airstrips when the Japanese were bombing up there. A lot of people don't know about that phase of the war. They hear about Midway in Europe but just off the coast of Alaska they had major battles going."
This year's event in Wembley was moved indoors to the Source Energy Arena and Recreation Centre in the hopes of attracting more people to the ceremony. Dave McCallum was unable to make it back to his hometown in Saskatchewan this Remembrance Day so he chose to honour his family in Wembley by laying a wreath in their name.
"My dad was in the Second World War, he was a lieutenant in the Air Force, my mother was a member of the Ladies Auxillary for years and my older brother was in the armed forces but he was killed. I just lay a wreath on behalf of my family."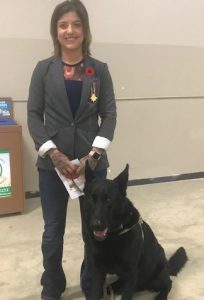 Remembrance Day isn't just about honouring the humans that helped protect Canada, it's also about the animals who put their lives on the line. Robin Leonard and her German Shepard Leo made the trip to Wembley from Grande Prairie. In 2010, Leonard did a tour in Afghanistan before applying to be a dog handler which is where she was paired up with security and bomb detection dog Leo. She retired from the Canadian forces in 2011 and went on to spend two more years in Afghanistan  as a contractor.
Leo spent two years with Leonard and another four and a half with a different handler before retiring and officially being adopted by Leonard.
"As soon as they're retired, their handlers will get first chances to adopt them. If their handlers can't take them or if their handlers are still working, if they're friendly enough then they'll get put into an adoption program to go back to civilian owners."
Ceremonies were also held in Beaverlodge, Hythe and Sexsmith with an Indigenous Veterans Day ceremony also taking place in Grande Prairie on November 8th.