Family and friends gathered to honour the lives of missing and murdered Indigenous women, girls and 2-spirit people on Friday evening. October 4th marked the 10th annual Sisters in Spirit Memorial Walk and Vigil which started at Grande Prairie Regional College with the unveiling of the new monument to MMIWG2S called Spirit Sisters Rock.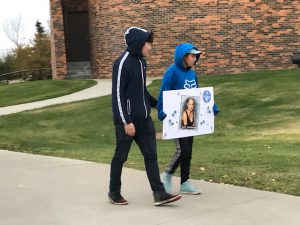 As the walkers started their trip to the Grande Prairie Friendship Centre, Melinda Quintal and her granddaughter Araya Rumsey stayed behind to look at the monument and pay tribute to their loved one. Quintal says her daughter-in-law Lori-Lee Francis disappeared from downtown Grande Prairie 11 years ago when Araya was five-years-old.
"She's never been found and it's hard on Araya having no mom… There's been nothing, nothing at all and it's hard on her [and] hard on all of us."
In 2010, the Native Women's Association of Canada confirmed 582 cases of missing or murdered Indigenous women and girls over a 20-year span. In 2013, a report from the RCMP pushed that number to 1,181 cases nation-wide. Vigils are held across the province every year on October 4th to honour those who weren't given the chance to come home.
Lois Duke was at the vigil on behalf of Foothills First Nation, about 75 kilometres west of the city. Her grandmother Florence Calliou was murdered on November 18, 1961 at the age of 29 leaving behind four children including Duke's mother. While she never met her grandmother, she says her death left a hole in their family.
"It really changed our lives in a way that we can't comprehend because we didn't have her. I like to think though if she was here maybe some of the heartache and pain that my mom endured wouldn't have been there."
Duke said that as she looked at the monument with the image of a jingle dress dancer etched in pipestone, she finally felt safe to share her story.
"There were many years where we didn't speak of my grandmother and I'm not sure why other then nobody spoke of her. It's probably been the last four years with these movements going on that I finally feel safe to speak of her and if my mom were still alive today I know she would be so proud of all the work that we've done here in Grande Prairie."
Duke believes there is hope that someday everyone who has felt this loss will know where their mother, sister, daughter or grandmother is and why in some cases they were killed.
"There's still hope that our women will be safe and there's still hope that the ones who are still missing may return home. This just means that we're not blind, we don't close our eyes anymore."