As the new fenced-in location slowly begins to fill up in the shadow of city Hall, members of Grande Prairie's street engaged population and a slew of workers from the city and social services programs are looking to quickly reverse the impact left behind from the original "tent city".
"It has been going without incident," says Sergeant Charlene Gallant with Enforcement Services. "We are just encouraging them to get their belongings and utilize the resources we have in place for them to go in an effort to get the help that they need."
The original grouping of tents pitched in front of Rotary House began to grow at a rapid pace in early August. At that point, two men living on the streets approached Grande Prairie city council, urging members to take action on a lack of affordable housing and the usefulness of similar available programs.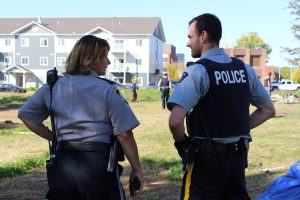 At its peak, more than 60 people in dozens of tents had camped out on a piece of green space to the south of the homeless shelter. Its visibility drew concerns about safety and criminal activity from the general public, and while those have been disputed by a nearby daycare, Gallant says a solution is needed to get a grip on the situation.
"It's a community effort that we've joined together here to help everybody involved, including the people who don't have a home to go to and residents outside the area. It's a joint effort to try and come to a resolution to the problem," Gallant adds
A New Tent City
The new, temporary site is located between Rotary House and City Hall and features 24-hour staff on-site, fencing and lighting. There are also a number of rules residents will need to follow, just like if they were in an actual shelter.
For outreach workers trying to get order into what they call "organized chaos", the challenge remains in getting everyone settled as quickly as possible. Chris Tobin with Northreach Society says people staying on the site face their own unique set of troubles, as they begin a more organized life in the short term.
"A lot of this is just survival; most of it is because it's extremely difficult to get stable, consistent housing and maintain that," he says. "If your [drug] use is heavy, or if you have mental health struggles, landlords just want a good tenant, and it's not something you can just teach somebody or that's natural to a lot of people."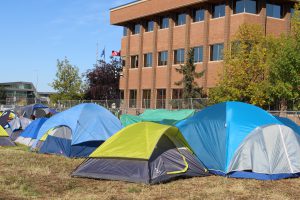 Tobin adds when the initial tent city popped up, possibly fuelled by instances of bylaw enforcement officers removing the property of people tenting, he knew things were going to reach a boiling point sooner than later. He believes, however, it may have come down to a lack of communication that got them to this point.
"I don't think they were fully informed that their belongings were being held by bylaw in storage for at least 30 days for them to pick it up. There was a bit of an upset because people thought was being thrown out, but realistically they did have the opportunity to go and grab it if they needed to."
Tobin argues that while some residents around Grande Prairie may not like the idea of a short term gathering of the street-engaged population, in the long run, it will be helpful for everyone involved.
"It's easy for me as an outreach worker to come to people, build relationships, connect and get them to supports. It's a lot easier than if they're dispersed across the city, as it's extremely difficult to find people and connect with them in that case."
The temporary location for tent city is expected to remain in place until at least October 2nd. The Saint Lawrence Centre has reopened its day shelter at Rotary House, and the city is working on plans for its own for this fall.